Faculty Summer School
The Summer School prepares new faculty for a fast-start in research and instruction by providing workshops and resources in core chemical engineering topics, proposal writing, and pedagogy. The Summer School also provides an excellent networking opportunity for new faculty to meet and begin collaborations with other ChemEs across the country and around the world as well as to begin mentoring relationships with a wide array of senior faculty workshop facilitators.
---
Thank you to all of the attendees, workshop presenters, and Summer School committee members for making such a great and memorable event!
The next Summer School for chemical engineering faculty will be held sometime in either the summer of 2026 or 2027. ASEE ChED with input from AICHE Education Division will be soon putting together the planning committee. Please consider putting forward your institution and department as a host for this important event.
---
2022 Chemical Engineering Summer School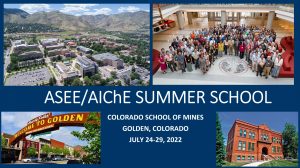 The 2022 Summer School occurred in 2022 at the Colorado School of Mines in Golden, Colorado. More information about the Summer School will be added here in time.
More information about the 2022 Summer School can be found though AICHE's website.